Wednesday, January 31, 2007
hi there! how you doing guys?!....


I just want to post the birthday thing and the name thing that i have read from tina's blog.hehe! she tagged me so i guess i need to put my results too. *wink* Anyway, i enjoyed it and was happy on what i have discovered more for myself. Most of them are true. Here it is...

My results: for January 06, 1982


Your date of conception was on or about 15 April 1981 which was a Wednesday.


Celebrities who share your birthday:Joey Lauren Adams (1971) Susan Perabo (1969) Nancy Lopez (1957) Rowan Atkinson (1955) Syd Barrett (1946) Bonnie Franklin (1944) Vic Tayback (1929) Sun Myung Moon (1920) Loretta Young (1913) Danny Thomas (1912) Kahlil Gibran (1883) Tom Mix (1880) Carl Sandburg (1878) Joan of Arc (1412)


Top songs of 1982I Love Rock `n' Roll by Joan Jett & the Blackhearts Eye of the Tiger by Survivor Ebony and Ivory by Paul McCartney & Stevie Wonder Centerfold by J. Geils Band Maneater by Daryl Hall & John Oates Jack & Diane by John Cougar Don't You Want Me by Human League Up Where We Belong by Joe Cocker & Jennifer Warnes Abracadabra by Steve Miller Band Hard to Say I'm Sorry by Chicago

hmm..Rowan Atkinson. haha! and Joan of Arc. wow! and the songs, i think i have already heard most of them and you also know most of that. Especially "hard to say i'm sorry & ebony and ivory" hehe..just like tina have said..think gonna download them..haha!

Now for the name's generator...
Your number is: 6


The characteristics of #6 are: Responsibility, protection, nurturing, community, balance, sympathy.

Your Inner Dream number is: 3
An Inner Dream number of 3 means: You dream of artistic expression; writing, painting, music. You would seek to more freely express your inner feeling and obtain more enjoyment from life. You also dream of being more popular, likable, and appreciated.
--- i can't believe it! haha! it says all! ive graduated as an advertising student and i really love painting. sooo love it and my passion as well as music..yeah i love writing but im not really good in grammar.lolz! but being popular and likable? hmm..kindah contrary i really dont want to be popular or famous as what i always say..i really just want to enjoy and have fun if people will appreciate the things i have done then thanks, if not then the same.

The expression or destiny for #6:The number 6 Expression provides you a truly outstanding sense of responsibility, love, and balance. The 6 is helpful and ever conscientious, making you quite capable of rectifying and balancing any sort of inharmonious situation. You are a person very much inclined to give help and comfort to those in need. You have a natural penchant for working with the old, the young, the sick, or the underprivileged. Although you may have considerable creative and artistic talents, the chances are that you will devote yourself to an occupation that shows concern for the betterment of the community.
The positive side of the number 6 suggests that you are very loving, friendly, and appreciative of others. You have a depth of understanding that produces much sympathetic, kindness, and generosity. The qualities of the 6 make the finest and most concerned parent and one often deeply involved in domestic activities. Openness and honesty is apparent in your approach to all relationships.
If there is an excess of the number 6 in your makeup, you may exhibit some of the negative traits associated with this number. There may be a tendency for you to be too exacting and demanding of yourself. In this regard, you may at times sacrifice yourself (or your loved ones) for the welfare of others. In some cases, the over zealous 6 has difficulty distinguishing helping from interfering. You may have difficulty expressing your own individuality, because of involvement with responsibilities and causes. Like all with the Expression of the number 6, it's quite likely that you worry much too much.
---- AHA! this is exactly how i am..its all me! haha...its like im gonna work in an orphanage soon? what you think ha?! haha.. no doubt..this is how i really am. And you know what? number 6 is really my lucky number.lolz! because when we are getting our numbers for the day and when will be our turn for our thesis defense ive got the number 6. So Ironic! i need to do my defense on January 06 which is my birthday then i am the 6th person on the lists! haha..what a coincidence..i told myself i will never ever forget about that.

A Soul Urge number of 3 means: With the Soul Urge number 3 your desire in life is personal expression, and generally enjoying life to its fullest. You want to participate in an active social life and enjoy a large circle of friends. You want to be in the limelight, expressing your artistic or intellectual talents. Word skills may be your thing; speaking, writing, acting, singing. In a positive sense, the 3 energy is friendly, outgoing and always very social.
You have a decidedly upbeat attitude that is rarely discouraged; a good mental and emotional balance.
---haha! this is sooo truee! this is awesome..lolz!

On the negative side, you may at times become too easygoing and too optimistic, tending to scatter forces and accomplish very little. Often, the excessive 3 energy produces non-stop talkers. Everyone has faults, but the 3 soul urge doesn't appreciate having these pointed out.
---yeah, quite true though. Especially when it comes to emotions sometimes i loose my balance.


There you go. haha! its a long post i know but its all about me. so if you really want to know who i am then you can read it. yeah for those who are only interested..not obligatory guys! just browse and see what makes you think the most interesting thing about me.*biggrin*


I would like to thank
TINA
for this post. hehe! If you want to know about yours then just click tina's name on my link or her name here. You can see the instructions there on how to do it. Im sorry im kindah lazy to do it for you guys!ROFL *biggrin*
I'll see you on my next post. Thanks for those who always visit, leave a tag and give comments. love you guys! and also to those who always votes me! i've seen that im already number 1 on pinoy-blogs.com. Thanks guys! keep on voting. *mwahugs* take care...
Labels: birthday, name, randoms
Y Make me yours tonight, let me die in your arms;
12:21 AM


Monday, January 29, 2007
Ola!!! how are you guys? long time no post. hehe! My blog is begging me to update.lolz...so here it is. =)


It's not really that im not in the mood but im always tired from work when i gets home. Eventhough i don't have much work.haha! yeah, its been a week tomorrow since i started to be a BUM. But im enjoying it for the mean time, i guess i really need some time to rest like what my horoscope is saying.lolz! It says "you need a break, have some babyruth."oppsss!haha! Seriously, i really need a break its because i've been working and working all this time. And i guess this is the right time for me.


Last week, on my first non working day i was able to chat with my friends in the philippines. Its really different when you don't work on ordinary days because you will also know what others is doing especially people in the philippines. They are 7hours ahead from here so its like i'm still in bed untill 11am and my friends have already been to work and will just chill at home. So i can chat with them freely while im waiting for my lunch.haha! Well, ive enjoyed chatting with them. REALLY! once in a blue moon.lolz. We have cam to cam conversations and talked about the big changes that had happened to us. Its funny and crazy! Hope we could do that again tomorrow.harrr...


Monday is always been a tough day for me, since its the beginning of the week. You have to think and start again all the work you will have for the rest of the week. But anyways, i can manage im used to it anyway.


It will be payday again in two days, but im so preoccupied about the bills and my expenses.errr! Haven't got yet my salary but everything is already budgeted and it will immediately be out of my hand. 100% sure! Tomorrow i have to pay for my glasses.arggh! I didn't expect that i have to pay that much for those glasses to think that im going to use it just when im in front of the computer. hehe! but it will be worth i guess because im ALWAYS in front of the computer.haha! Then i have to pay bills like phone and internet bills, then i have to pay my ticket fare for the next month and i need to have a part of my salary for our savings. You know, because we have our plan of visiting Philippines this year, if God permits. So we will have our money for our fare and for our expenses. Oh well, i will be broke in a few days and have to survive untill the end of the month. waaa..Oh my God, help me! =(


I've accompanied arianne this afternoon at the computer shop or computer repair shop. Damn, i can feel how sad she is leaving her laptop wit the guy and have it control. Well, we have visited this guy first and ask him about what will be the possible problem of her laptop. Just right when he saw it he said that it is something inside the computer that is not working at all. He told her that she needs to bring it to the company which is "acer" and they will repair everything on it. And when we asked about the price, damn! better buy a new one than let it be repaired. Costs too much!errr... Arianne left her laptop with this other guy, he will be going in Acer tomorrow to ask about what they can do about it. Because there is also this another client who has the same problem. Hope he can give arianne some news about it by tomorrow then she have to decide if she will let it repaired or not. And i hope it will not costs that much. hugs to arianne i know how sad she feels, she almost cried before leaving the shop. Well, if im gonna be in her position im gonna feel worst. As we say, "our laptop is our boyfriend!". haha..crazy but its true! We cant live without our laptop. =( Gonna pray for you arianne. Anyways, you can always come here at home and visit me. yahooo! *biggrin* we will see each other more often.weeee...


I'm kindah pitying myself now and kindah sad. I can't really tell you about it because its a bit personal. oh well...just want you to know my current mood as well. Some things here aren't going well for now but i hope in time everything will be ok. *sigh* soooo sad! poor me! Guess it's my fault. hayyy....what can i do? Im just a human. Honestly, i was crying when i was writing this. The feeling is so intense and i can't stop my emotions. ahhhh! im really just a cry baby!period! im gonna be fine...im gonna be fine...im gonna be fine...im gonna be FINEEEE! =(


Guess i have to go for now. I'm just gonna post some other time. Tell you some interesting stories and not always a bad one like this. But thanks for the patience and the time for reading it. i appreciate it a lot! Just keep on tagging and leaving some comments. =)


Take care guys! Enjoy the rest of the week. *mwahugs*
Y Make me yours tonight, let me die in your arms;
11:22 PM


Friday, January 26, 2007
hey there! I still don't have any idea for now what to posts. I guess im still not in the mood. I just want to update and let my blogger friends who always have time to drop by here that im doing good.
I want to thank those people who visit often, leave comments and tags. =) so much appreciated! I have lots of things in my mind, i want to write but i don't know how am i goin to start. So i'd rather just take a rest for now. I don't want my readers to get affected or i mean to be sad about what im writing.
I'm just having some "movie marathon" in the past few days. And i'm kindah having fun. And now i keep looking and downloading other films to watch. But whats important is my favorite TV show "Sex and the city". Gonna watch the second season after i finished downloading it then third season is up next.haha! and oh, do you know about the cartoons "Happy Tree Friends"? well, ive seen it first aired at MTV. i find it cool, funny and disgusting!haha... I guess this is the only cartoon that is nt allowed for kids to watch. I warn you its disgusting and so VIOLENT. I just cant imagine why did they did a cartoons like that.haha! none of my business though, but yeah its really not for kids. I tell you!
so, i think i need to go for now. im having some backaches. it's been raining almost the whole day and i hate it! and its really really cold..my ass is freezing!lolz.. guess it will snow soon.errrr! one more thing, im gonna have to wear an eye glasses soon. They suggest for me to use one because im using and staying too much in front of the computer. grrr...anyway, guess its my fault!hehe..
Take care guys! i'll be back soon. thanks to all of you, mwah! have a fun friday! mwah
Y Make me yours tonight, let me die in your arms;
12:55 AM


Sunday, January 21, 2007
"I can't believe! I'm in F&%$ing HELL!"
That is what my status says at my yahoo messenger while i was chatting. Some of my online friends asked me about whats happening or "What is that status about?". They just knew something is wrong and something is happening. oh well...
"I woke up in the wrong side of the bed." somebody told me this doesn't exist. hmm..maybe, maybe not. Wasn't able to sleep well last night, something is bothering me. you know, things that you think but you dont know what it is and why you think of it. My net connection last night really SUCKS! I dont understand why. I have just called up my network provider 3days ago complaining about whats happening about it. An operator told me that is all about the router, blah..blah..blah. So i reinstalled everything and did it myself. Last night, i was chatting and everything got messed up suddenly. Too good, i still have my phone which i used to use before as my modem. I used it so i can chat and do some other things. I want to download everything last night so i can have my "movie marathon" today. but yeah, it sucks!
I woke up late today. I'm hearing noises down there..hayy..papi doesn't stop talking and talking and talking, both of them. Mami wants me to get up because its already late and wants me to do the chores. AS USUAL!!!!hmpf! I need to get my ass off from my bed, lunch is ready. I ate then called up a friend in the Philippines because it is her birthday today. Got to talked with another friend and then with my bro. They told me everybody was not there, kindah sad because i thought i can talk with most of them maybe next time.
I'm feeling depressed and sad the last days and i think i still am. I was able to talked with my bestfriend the last night. We chatted for an hour i guess. I feel happy and at the same time so sad. I miss my friends so much. I miss them badly! i suddenly felt like, damn!how much i want to see them, to laugh and have fun with them again. It's been 5 years ago since i've seen their happy faces, our "tambay" times, our "tomaan nights" and lots of happenings at our "sukob na!". All the memories since we were all little kids running around "home along da riles".haha! Memories that i won't forget wherever i am, no matter how many miles and miles away from you guys. I even cried while we were chatting. sori im a cry baby! She said that eventhough im not there i will always be in their hearts, nobody will ever forget me the one and only "basyang" of their lives. It makes me feel good but damn! it makes my heart melts away.
I can't imagine untill now that i'm going here to battle and leave the place that i love more than myself. But that is how life is i guess. You have to sacrifice one thing for the good of another thing. And now here i am, fighting and battling my everyday life trying to survive in the best way i can do. Never been easy for me! NEVER!...
Have you ever thought of giving up?...ME? yes i did, many times, many, many times. But there is always something that holds me to continue and live my life more. I always fall down on my knees begging for some help, to help me stand and give me strength. I always wanted to stop and just end up my life whenever this things happens to me. I want to kill myself when things fucked me up and shit happens along the way of my happiness. I find it unfair because its like 3days of happiness and a week of sadness and depression. A week of fun and a month of disaster. Damn! am i that bad to have all this kind of things? i dont know, maybe i really deserve all this. but i dont know why. It still remains a big question from me. I can't see any good answer in the future.
This blog is my only way out. My only way to express and take out all what i have in my heart. An outlet to feel better after writing all the hatred and questions that is always on my mind. I dont know how my readers thinks and understand how i feel. But i know somebody have experienced and have felt this way like i did. I'm sorry if i wrote this way most of the time, just try to put yourself on my shoes then i guess you'll gonna understand me.
I started the week bad, stressed out and find myself ending up at the same mood. I hope this week will not be the same eventhough i don't already have my work anymore. Need only to adjust in a span of time then i guess things will be alright.
I want to thank again the people who always are concern to me. Who reads my blog and leave their kind words and advices that helps me to move on and realize things over. Thanks for giving me strength by means of your sweet words. Thanks for always uplifting my spirit. Thanks for the neverending understanding and patience. thanks guys!
I dont know when im gonna feel good again, but i will try. Im gonna give myself sometime to reflect. Eventually, things will be alright and will be back to normal. I'm gonna ask for His guidance. So, help me God!
I want to take my rest now. I'm sorry for stressing you out with this. take care and have a good week ahead of you. love u guys. mwah!
Labels: depression, missing friends, sad
Y Make me yours tonight, let me die in your arms;
11:00 PM


Friday, January 19, 2007
Hello there! how's your week been going on? For me, all is SHIT. but, im doing fine don't worry.


I'm about to post something last night. Everything is finished i will just justify it and then publish then suddenly "blogger is doing some maintainance". Wat the F&%£?!!! i've wrote it for almost an hour and a half and what important is the feelings i have put it on there. hayyy..thought it gonna help me but damn! it make me feel worst. grrrr....


I'm sooo tired, tired, tired today. I did lots of work this morning and then was not able to find time to eat my lunch. Because i have to hurry up for another work in the afternoon. All i have in my bag is two pieces of chocolate and yeah it help alot though. I dont know why i was feeling so sleepy most of the time. I didn't sleep good for the past 3 nights. I'm always having this dreams that i could not really explain. I know who are those people together with me and i know whats happening and then when i woke up im feeling bad and can't really remember what happened. Kindah strange! But i kept on thinking about it on a day.oh well....


Errrr! i want to take a rest..i want some peace for a while..i want some silence...but damn! with this two people together with me. duh! even a minute...i always hear somebody shout, talks to loud, and everything. Ahhh..so irritating! but what can i do, our house is small and i don't have anywhere to go. I just hope we could really transfer to a bigger one at least if i could have my own room i could have my time alone and some space and could not hear whatever they are arguing about. "che palle, non finiscono mai di litigare! blah..blah..blah..uffa! sono stuuufffa!"


I'm feeling a bit sad and depressed since yesterday. I have already leave my other work yesterday which made me feel bad too. I've been working there for a year and a month now, but shit really happens sometimes so i better leave. It's just that i hope some of the things that i have done will be appreciated because i did my best in it. Not that easy to find another work for now so im gonna be a bum for the meantime. ahhh! patience is a virtue as what they say. Well, i thank my boss for everything she have done for me for all the help and the shitty things. I have learned a lot from her anyway. And sometimes you really dont deserve what you have so it normal to have changes and to have different style for a while.


I'm missing my grandpa! I was not there in the philippines when he died. I'm a grandpa's girl a 100% grandpa's girl. I know he really loves me so much thats why he never forgets to show in my dreams every now and then. And maybe he wanted to remind me about his birthday because it's quite near. But, of course i will never forget about it. I love you tatay!mwah..i miss you so much...


One more thing, i have had this conversation last time with my boo. I have him in my dreams too and yeah i was thinking of him for the past days. Its all aout him going to the University soon. He needs to finish his Nursing school so byt then he can really move on and make another plan for his future. Im happy for him but at the same time im sad because i know im gonna miss him so much...SO MUCH...SOOO MUCH! Im not used of not talking to him in a day. He is my daily journal, my diary. But i guess it is time for us, for me and him to go on our real plans for our own lives. Anyway, im just here to support and love him all the time. Gonna be happier if all his dreams will come true. and neways, we still have some time to spend we still have time to enjoy and have fun.
"boo, you have reached this far now. I'm happy that your pushing through all of your plans. Im glad you have your strong determination to finish your studies and go to another step. Keep reaching for the stars. I know you can do it. Your family, friends and loved ones will always be at your side so you will never be alone. Move on and i know your getting stronger than ever in every fall you've been through. You know that i will always be here for you, ALWAYS! i'm just a text, a phone call, an email and ym away. i will always be here waiting for you. Believe in Him and He will always help you and will never leave you. Keep your fingers crossed because in the end all of this will paid off. You will get the price that you've been waiting for. Keep on dreaming. Time will come you will get whatever your heart desires. always have fun and enjoy! My prayers will always get along with you. my love will always follow you. im gonna miss you alot, boo. i love you. mwah."
whew! teary eyes...hehe! im sori about that, i really can't help what im feeling. I can't stop my emotions. i really can't! so i guess writing it down here will be a big help. ahh...well, yeah. it helped! =P ok, too much for the dramas....


hmm..what else? am i writing that long now? hope you didn't get bored at all!haha...I want to thank also my blogger friends who patiently drops by most of the time here and leave comments and tags. Im sori if sometime i wasnt able to drop by on yours the first thing is im tired and can't think of anything to say.hehe! I'll make it up to you all whenever it happens. And i want to thank arianne for putting me as her first "featured blogger of the week" at her page. thanks yani baby. love you all guys! mwah...


What about some plans for tomorrow? hmm..doesn't have any for now. Because i've been out with arianne for the past days just doing shopping.haha! and im loving it...were not just doing shopping cam whoring too. hehe! we will see... but im sure im gonna end up looking for other sales stuff around. *biggrin*


Ok, time for me to go. Getting a bit late and need to do other things. =P have a good time and oh have a good weekend to all of you! I'll see you on my next post. take care..mwah
Y Make me yours tonight, let me die in your arms;
11:35 PM


Wednesday, January 17, 2007
Finally! i've got my time to do another post now. Well, actually i have time i'm just kindah lazy.haha! I'm supposed to write something last night but i wasn't able to do it because i fell asleep. I've got lots of stories so i guess my post will be a bit longer than the usual though i ised to write long blog.haha! it just shows how talkative i am even just on writing. *biggrin*
Let's begin from Monday. hmmm...well, i really dont have a good start of the week because on a sunday evening i have just received a bad news. Our boss called up that sunday night we are about to tell them that were gonna leave them until the end of the month. But, yeah it sucks! they are the one who just declared that were gonna work untill this week. assholes!*biggrin* Oh well, there are those people who are made just to be assholes and bitches. People who do not appreciate all your hardworks after all. They are very kind at first, they need your service and help but after getting it and got satisfied themselves they will dump you just like an ordnary trash. I really dont want to leave the work, but if they are not treating me good and right they are not WORTHY. I know there are other people who needs me whose kind enough and deserves me more than they do. I know i can find another work, a work were i will be treated fairly. I hope i can have one soon again. ASAP! =D
At the same nyt, i have completed downloading my fave show "SEX AND THE CITY". awww! I was able to find it after a long time.haha! I have found it at Torrent courtesy of aryan.haha! I did some "sex and the city marathon" until 2am. I've watched 4 episodes continuosly, right from were they have started and have introduced the main stars. Sarrah jessica Parker and her girlfriends are the stars of the show. They are the so called New yorkers, who has their own lifestyles and different views about "sex". I really enjoyed watching it since i was in college. It is funny and you will learn lots of things from it. Facts about the american boys, the life, the attitudes, the characters, different viepoints about having sex or sex itself, what they like and they hate about girls, what makes them turn on and lots of lots of things. Its fun though, i have almost put my emotions there whenever im watching it. I even watch it on my way to work and i guess people thinks that i'm crazy because they see me laughing while looking at my ipod. oppsss..sori! SHOW OFF!haha. I have learned much from it now, and i can't wait untill i get the 2nd and 3rd season. Yeah i know, i still have long way to go..haha! because they already have finished the 6th season. *wink*
I've been always out for two days now, im doing some SHOPPING GALORE with aryan. =D We are having the winter sale now so time to get that nice things for a cheaper price. Yana have already bought her nice shoes and still have to buy a jacket.haha! And me, im planning to buy a new shoes too.*biggrin* but havenn't found a nice one yet. Soon im gonna get what i really want. Anyway, i have bought something else. I really can't just stop myself. European people are really just obsessed with fashion. and yeah, we are "shoppaholics". Typical girls who loves shoes, bags, clothes and accessories. =D
We are not only shoppaholics but we are "camwhores" too. We love, love, love taking pics everywhere and all the time. Its really fun when you see yourself making faces and doing that crazy poses for the pics. I know other people who sees it will laugh and say, "damn, this girls are crazy but really are hotties". haha! im just kidding guys. peace! hmm...but can't u see the proof?haha..enough! *devil's laugh*
I really have lots of stories to tell, but i can't remember the others. And i'm afraid that those people who used to drop by and reads my blog will get bored because im writing too much. Well, i still have other time and i can always write whenever i wanted. So, i guess for now this is all. I'm kindah tired though and still have to do something else. Of course, chat! lolz.
I also want to thank the people who used to drop by and tag. For those who are sooo patient reading my posts and always visiting my site, and yeah for those who also ask some link exchange. just leave me a message and your link and i will get it done asap. Thank you all very much.mwah....Keep it coming!
I think i will have to leave now. Getting late and need to do something. Have a good thursday to all of you. Take care. I will try to drop by to all of your sites...mwah!
Y Make me yours tonight, let me die in your arms;
10:53 PM


Sunday, January 14, 2007
Sunday! a time to rest for everybody. Time to do another kind of work inside the house. Things that you cannot do on your ordinary days. hmm..like cleaning the whole house, arranging your "jungle like closet" *biggrin* and preparing for the coming week ahead! Is it what you call a rest day?
I stayed here at home and chill the whole day. I was awaken by a call of my boss at pass 11am.eerrr! I can't take it. When i see her this week i'm gonna tell her if she's going to call me on weekends especially sunday, she should call me at around 3 or 4pm.haha! well, after the conversation i still want to stay in bed but i'm not feeling sleepy anymore. oh well...
I get my ass off from my bed. I started thinking of the things that i have to do. First, gonna clean the house then gonna arrange my "jungle like closet"=D and prepare my things for tomorrow. Started working on things around then we called up in the Philippines to get some news. Everybody is doing good. My grandma is doing fine. My cousins just left for a tour in Hongkong for 4days. wow!...
I can't decide if i'm going out or not. It's a sunny sunday! I want to at least feel the sun outside. You know it's winter season, sun doesn't show up most of the times. And its damn freaking cold and yeah don't forget to keep in mind that it's WINTER SALE. Every shop will be on sale this whole month of January untill the first week of February. hihi!
I asked jeng if we can go out with our other friend weng, but she refuses and told me she's not in the mood. ok, one down! Then i asked yana if she is able to copy the movie "happy feet" in the cd. She told me she haven't done it yet. She will just give me this site and everything so i can download it. So, by then i decided to just stay at home and chilllll! =P
Time passes, then finally i was able to finish all the chores and things that i need to do. I took a shower and asked papi to give me a massage. hayyyy! damn, my bones are really stressed.haha! I felt really RELAXED after having it. My bones keep on "crikkk, craccckking..." while papi gives me the massage. I'm feeling good now and ready for another week of WORK, WORK , WORK....
Somebody gave us this italian sweets. It is called "chiachiere", its like a biscuit with white sugar on top. They start doing it on the month of January it is because by February they will celebrate the "CARNEVALE". It is when kids used to dress up like snowhite, superman, cinderella, rapunzel, spiderman, fairies and the likes. This day is mostly for kids. weeee! I know there will be another holiday for us. and that is what im waiting for.hehe!
Still early 20:05pm on my clock to be exact. I'm waiting for somebody. =( Haven't chat with him since last night.*sigh* Anyway, i hope he had a good time because i know he needs it somehow. Need to relax sometime to take away some stress from working the whole week. Just mising him, you know. =( Hope i can talk to him because next week he'll gonna start school again and our time will be limited. He needs to study nd work at the same time and i know it will be really hard for him again. remember, i love you.always!=) gonna miss you too! =(
Got to go now. Time for me to rest for a while. ah, no...i want to do some layout. hmmm..what you think?
I joined the Pinoy-Blogs.com last night. I've seen it from yani's blog and got interested. It's cool though. I was ranked #36 this morning out of 90 registered blogs and this evening i've already at the #24. Thanks for those who visit and vote for my blog.hehe! don't wanna get famous, just enjoying and having fun blogging. but thanks for my blogger friends. mwah!
Time to go for me. see yah on my next post. take care guys and have a good week ahead of you!mwah...
Y Make me yours tonight, let me die in your arms;
7:33 PM


Saturday, January 13, 2007
hi guys! wee..thank God its already saturday. Time to relax and do something different after a week of work..work..work..work! hehe.

Im late at work again this morning. Oh well, nothing is new with that.=P And damn! i don't know why i was feeling soooo sleepy while im working. hmm..i know i've got enough sleep but i guess it is because of the weather..I want to sleep more. It's really foggy early this morning then my hands are freezing coz its really soooo COLD!

Im supposed to go out at 1pm but since im not in the mood to work i go out 30minutes ahead of my time.hehe! im really not in the MOOD! =) gonna make it up next time.haha!

On my way home, yana gave me a miss call. Been thinking why and wondering where is she that time. I gave her a call. Then i ask her wer was she and yeah she was just walking in front of me.haha! was not able to see her because im still feeling sleepy that time.

I invited her to go with me at our house. Well, i need to gave her chocolates. The one i promised and the one she really liked too. After that we just chit chat about our the happenings and everything. Papi cooked some pasta for us.=) "pasta al pesto"...wow! i liked it and so delicious. Then we got some "crochette" for our second plate.Its like french fries just that its something that is filled with potatoes inside.haha! Then we had some "creme caramel" for our dessert.awwww! then finally coffee.=D

We decided to go out for a while. Honestly, its the first week of "SALE" i mean WINTER SALE. I want to buy something for myself.as always! We drop by at yan's house first then go at our nearest and coolest hangout.haha! At IPER...did some shopping! shopping! shopping!. I really dont know wat i wanted to buy and want for myself. But then i ended up buying a two new tops for this coming summer and then two sets of undies.haha! sori for that..am i getting too show off or vulgar?!*peace*

After buying some stuffs, we stayed at the café for a while. We had some "Chocolito's", caramel flavor with espresso then milk and whip creme on top. Really goood! Still continuing talking. laughing. laughing out sooo LOUD and the neverending stories! After that we go on to our seperate ways. Its been late so i have thought of going home.

And oh i've got some story for you guys. I was at the bus this afternoon, im on my way home. I've seen a guy trying to go and putting his self were people can't move anymore. Meaning he wants to go there and "ROB"!!! I've seen the guy putting his hand slowly inside the other guy's pocket. I look at the man's face and through his eyes i wanted to tell him that somebody is trying to get his celfone or watever it is in his pocket. But damn!!! i was wrong though, i've seen the man talking to the guy. Shit! it means they are friends and are together trying to rob the girl in front. The man is covering the guy's hand so they can rob the girl in front of them. Holy Dog, the man looked at me. He talked to the guy like saying "somebody have seen you". mamma mia! Then i guess the girl just felt somebody is doing something else at her back. So she moved a bit backward and look at the two guys. So, they didnt got anything from her. Well, this two guys did not stop. They've got another victim, another woman and shes a filipina. Damn! If only i could shout and tell them there is these two guys robbing. But i can't i felt scared coz they have seen my face and looked at me. Im afraid they might go back to me and do something bad in the future. So i turned my back and move a bit far from their place. My hands are shaking and dont know what to do. When i get off from the bus, they did too. They were looking at me. But i hope they didn't remember me at all. I dont know if they were able to rob the pinay. I was not able to ask her and come near her to talk about it coz she was running. But really i got SCARED!

This is my second time seeing somebody who is robbing. Gosh! that's why im being sooo careful with my things when i travel because you'll never know. I always put my hands on my pocket where i used to put my cellfone so that i will know and feel if ever they will try to get it. "Knock on wood!". and in my other pocket i've got my ipod so i should be more aware who are those people at my back. Maybe just go to a place that is away from this kind of people and be safe.

So guys, be sure ur always safe and beware of ur things and bags so this fucking robbers couldn't get anything away from you.

I've had a long day today though. I've spent most of the day with aryan and had fun. I guess this is enough.

I better go now. Have a good sunday! take care guys.mwah
Y Make me yours tonight, let me die in your arms;
10:45 PM


Thursday, January 11, 2007
It's funny how our moods change. It's strange, its like the weather. Things will be fine in the morning when you wake up, then suddenly in the afternoon something can ruin ur day. And in the evening it will gets worst.


I don't want to get depressed again. I've felt it alot from last year. I want it to be different now. I have to clear things out with a friend. I need to decide what i really like. I need to think what is right. I don't need to pretend. I have to say and tell everything i have here inside of me. I should let them know.


It hurts. There still the pain. But yeah, nobody is wrong or right. Need to listen and accept everything. Need to face the reality and the truth.

"the truth always hurts".

And that will set you free. The first thing that will help you make yourself feel good and set you free.


It is time that can tell all of this. Time will help to heal all this pain. Time will help us to realize and understand all of this. TIME...it is what we need!


Hayy...do i need to say anything more? Im sorry about this post. i know this is kindah depressing. But i can't help myself. Doing this is a big help to lessen the burden inside me.


Shit happens, but im doing fine. Im gonna be fine.*wink*


Thanks for those who commented on my last post. appreciate much!and for those who always drops by and tag. thanks! and for those who ask for ex links. I linked u all up. take care guys.mwah!

Y Make me yours tonight, let me die in your arms;
11:52 PM


Wednesday, January 10, 2007
You can light up the dark
Try as I mayI could never explain



I remember this song from the movie "Nothing Hill". It's title is "When you say nothing at all". I've watched it together with a college bud way back on our sophomore year. We felt inlove with the movie, even watch it 3 times over and over again at the cinema. Memorizing the phrases and the actors scripts.haha! yeah, were really crazy that time. "opsydaisies!"...im not sure of the spelling.*biggrin*



The smile on your face
Lets me know
That you need me
There's a truth
In your eyes
Saying you'll never leave me
The touch of your hand says
You'll catch me
Whenever I fall
You say it best
When you sayNothing at all



The lyrics is nice. Like someone who really is inlove.hehe! Well, im a person who is "always inlove". =D I love the story and of course the stars, Hugh Grant and Julia Roberts. =)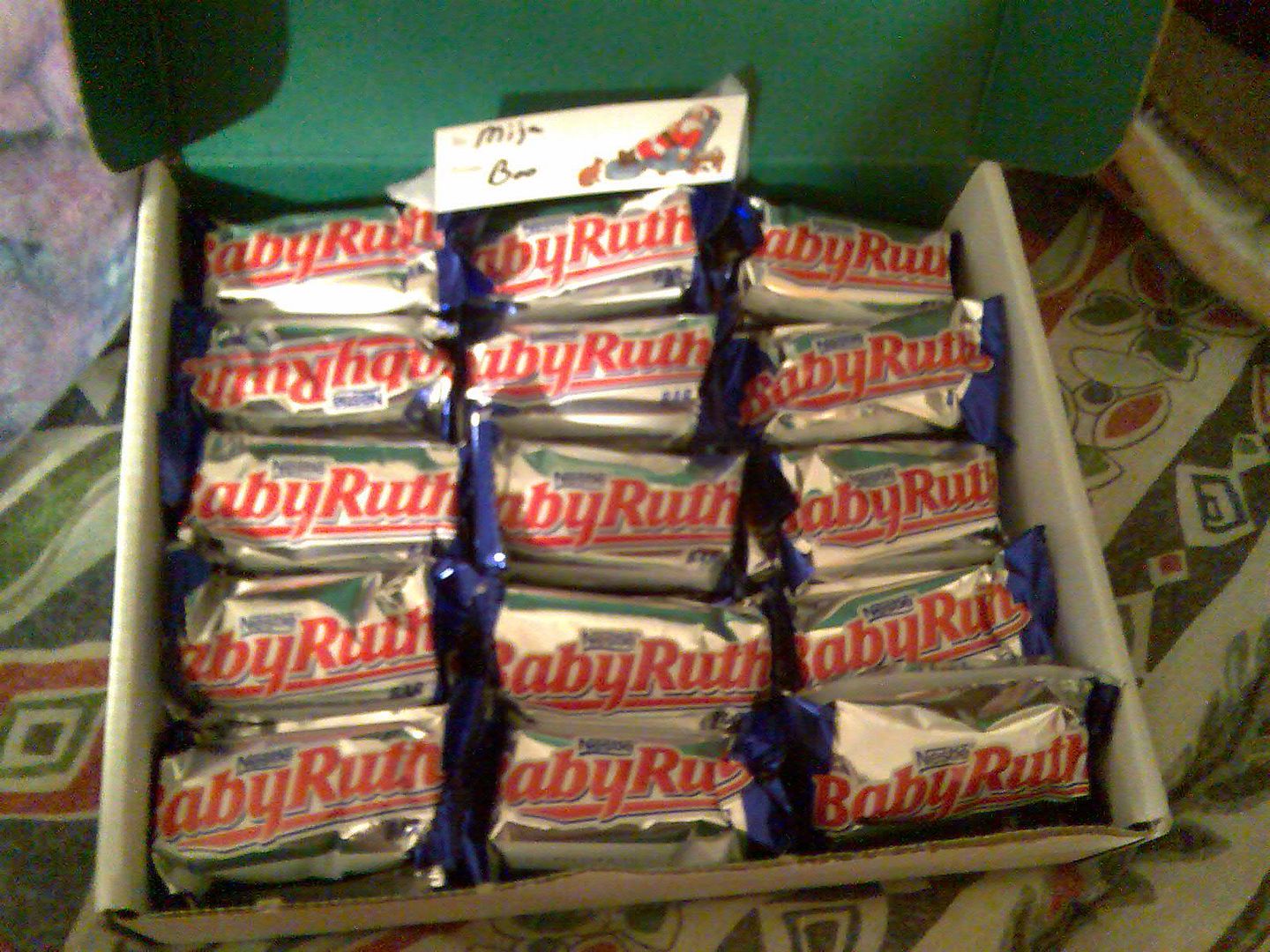 yeah, what you see in the pic is a "box of BABYRUTH chocolates".yuumm! Boo sent it to me as my christmas gift.hehe! it sucks because it arrived really late. He paid double for the package so it will be here before christmas. but oh well, italian post office sucks! errrr... Not gonna say what else he sent me.haha! by the way, Boo thanks for the gifts.mmmwaah! =)



I'm really tired today. Too much work to do then when i got home A LOT more chores to do.hayy! Oh, i've got some bad news too. =( I'm gonna lose a job this coming february i guess. I decided to leave this work for some certain reasons. First, the boss is kindah "bitchy".=D She just used me, after helping her with all this stuffs she didn't even appreciate all my hardwork. Oh well, some creatures are created to be rude! I'm gonna make my revenge for the last days, gonna make some absences without any reason. That way she will get really pissed and she will always remember me.*wink*



I will start finding a new job. My salary will not be enough to cover up my expenses. hmm..yeah its enough i guess but of course i want to save some more. =) If ever were gonna go visit the Philippines this year then i think i need to earn more so i will enjoy my very first vacation.awww!



Don't have any more stories. i'll be back again next time. Enjoy the rest of the week guys! take care. mwah...
Y Make me yours tonight, let me die in your arms;
11:46 PM


Tuesday, January 09, 2007


errr...I really hate mondays! There's always a lot of work to do since it is start of the week and the holiday is already finished. hmmm...need to check the calendar when will it going to be holiday again. hehe!
I woke up a bit late this morning.(as always!) But then i arrived a work on time. thank God! I got pissed today with my boss. She used to give our salary in the first week of the month which is supposed to be at the END of the month. And when she gave it to me, the money is not enough. What i mean is she said since i did not go to work on Xmas which is a "HOLIDAY" she did not pay me. Damn! what a hmpf! I just can't think why she gave that reason. Is it my fault if it is holiday? and if i did go to work she will not pay me double, so i decided to have that holiday so at least i can rest. She's just being like an ASS****.ampfness!!!
Hope my week still gets better eventhough i've started it that way. Oh well... Finally, i got my new smilies.haha! took me time to find them and then after i got bored with it and it is because im chatting with my boo and with other friends.
I have to work untill late tomorrow. hayyyyy! I'm sure i'm gonna be tired when i got home. But still i'm gonna try to post something. even just a lame one like this. haha!
Nothing more to say. i better go! take care guys...mwah
**i would like to thank to those who accepted my link ex. =) the others still not approving it i guess but neway ive added u all up in my links already.thanks again. keep on tagging and leave some comments. =D damn!blogger will have a scheduled outage.errr!
Y Make me yours tonight, let me die in your arms;
12:45 AM


Sunday, January 07, 2007
Ola!!! how's your weekend? hmm..i've got a great one though. I had fun on my special day. Celebrate it with my family and my friend yana. We had lunch at the restaurant and go shopping after.
For the first time, i stayed home today. On sundays, i used to go out with my friends but today i decided just to stay home and rest. Yesterday will be the last day that we will have holiday here. Tomorrow everything will be back to normal. Work, work, work and work!
I had my 25th birthday yesterday and yeah i had fun. But i know it can be better. My tita was not able to come because of some reason. And i thank yana for coming over, if she didn't come then it will be just mami, papi & me that wll be celebrating. It's a mix emotion yesterday. I was feeling happy before i go to bed. I'm happy because i've got the gifts that i would love to have. But i know something is missing and i want something more. It's not material but something inside me and someone whom i wanted to be with me. =( I want to be with my family, other friends and hmm...i know its impossible but who knows someday! =)
After having our lunch, i decided to go at the church with yana. Thank God for all the wonderful blessings he have given me all this time, all throughout my 24 years of existence. Giving me happiness, pains, sorrows, much love, more friends, more experience, more confidence, being more patient and stronger. Thanks a lot!
Yana and me have been at Duomo, she told me that we haven't been in duomo together so it will be our first time yesterday. Of course, we did our favorite past time "CAMWHORING". =D It's funny because my digicam is running out of battery so we use my cellfone. Then after taking some pics we realized that we can buy the battery at the nearest store there to continue our vain moments.haha! so stupid! Oh well, it was a success. =D
I beat my record once again, i'm online now for a day and almost two hours.awwww! I even fall asleep last night wile chatting. haha! I'm really sooo an addict when it comes to chatting.haha! no wonder!
I also updated my multiply just "CLICK HERE" to see MORE of my photos. Don't forget to check it out.
So, i guess i better go now. I need to update my friendster site but if it is im still in the mood though. hehe!
Love you guys! take care..mwah..Have a good week ahead of you!
Y Make me yours tonight, let me die in your arms;
11:28 PM


Saturday, January 06, 2007
my bee-day! =)
weee! yeah, today is my birthday. It is already 3:40am to be exact and im still awake doing my blog and writing my post for my very special day. I have changed my layout as you can see. Hope you like it guys!
So, what's ahead on my day? Well, last night i got some early gifts. hehe. Got a new jacket from my papi (not to mention the signature.haha!) a socks which is full of candies and chocolates and another gift from my cousin. Many thanks!
In the Philippines, my birthday is ceebrated as 3 kings. Here in Italy, it is called "epifania". It is a national holiday here. They celebrate it most especially for the kids. But i'm just wondering why is it they have the witches on this day. They give a sock of gifts for the children and if you got this "charcoal candy" on your bag it means your "BAD". I got one though! *biggrin*
It's my 25th birthday, meaning im existing here on earth this long. =D It is my first time to celebrate my birthday having a father with me and giving me lots of gifts like a baby girl. I'd never thought that i would have one like him. And also other people that have been here with me always.
I would like to take this chance to thank all of the people who have been part of my life. here you go:
Mami and Papi.

I dont know what to say. Thanks for the neverending support and the guidance that your giving me all this time. I'm happy to have you both. Thanks to papi, who treats me like his own daughter. Thanks for the love and support. Thanks for everything...everything! I love you both.
My friends and family.

Thanks for those who greeted me in advance and also to those who will greet me later.hehe! Thanks for all the love and affection. Thanks for the prayers and support. I miss you all and love you.mwah.
Mah boo.

Thanks for the neverending support and love. Im happy that you have been part of my life. Having you here is one great gift for me. Thanks for the wonderful friendship. Thanks for everything. I'll be lost without you. Thanks a lot. I love you so much!
God.

Thanks for all the wonderful blessings. thanks for giving me these people around me. thanks for the happiness, the sorrows, the pains and the love you're showering me. Thanks for the gift of life. Thank you! I love you.
I dont know what to say anymore. I'm just feeling happy. Thanks...
I'll be back again later. Gonna post my happenings within this day.
take care guys! love you all.mwah
hapi bday to me!=)
Y Make me yours tonight, let me die in your arms;
4:06 AM


Wednesday, January 03, 2007
"...rewind! 2006"




Hey guys! how was new years? hope you all had a great one. I guess still not late to do some flash back for what had happened to me for the past year 2006. This will be my first post for 2007, because i was not able to do it yesterday. As what i have said we were out of town for New years.


This post might be a long one.hehe! Let's make it by season because if im goin to tell you all about my happenings this year the space will never be enough and i think you will be bored. It will be really looooong!*biggrin* So here it go guys...


January, my birthday month. I celebrated it in our old house in Monte Ceneri and it was really fun eventhough some of my expected guests were not able to come. Anyway, its ok. And this is also the month where my life i mean our life has changed. Big time! haha. My mom had finally met her man of her life. After two weeks from my bday, she met papi and then decided to get married with him. Then i also finally got a laptop before the end of the month.=D


We finally decided to transfer at papi's house by April. They will be getting married as soon as mami have processed her papers from the Philippines. We've been to Naples to attend a Matrimony and there where i met papi's son, named Alex. Then her daughter (pamela) and her family came over on Easter sunday to spend it together with us. We've met papi's family his mom, his brothers and sisters, her nieces and nephews and other relatives. Everything did just fine!
I also did some thing that is wierd. =) I finally got my "tongue piercing" last July 2006. I guess my passion with piercing will never stop. I still want another piercing i mean more piercing.haha! well, mami and papi didn't know that ive got my tongue pierced they have just discovered about it after a month.=P because, i made it obvious i really want them to see it finally.haha! crazy me!

I've really had FUN this spring and summer time. We've been into lots of places and i even spend a week at my half sister's house in Ravenna. I took care of her kids, visited some tourists spot there and have been to beach to go tanning.haha! I really have soooo much fun and enjoyed it!


Before the summer ends, mami and papi got married. On September 12, they finally made their vows. One of the highlights of my year! I know my mom is finally happy that she had found the man of her dreams and the man who will love her for the rest of her life.


I have been so close with my new family, we are so thankful that they have accepted us whole heartedly. They welcomed us to the family without having second thoughts. They have loved and treated us like their true family. And "nonna" (papi's mom) had just died this November 05, 2006. ti vogliamo bene nonna!


This are some of the events of my 2006. Not yet done though, still have to thank some people who is always been there with me and have been part of my life. Here you go...


God. He is my savior and my bestfriend all this time. Never left me in those difficult times especially on the times i needed him. Thank you so much. I love you with all my heart.


My family. Who are always there to support and help inspite of the miles and miles away. Thanks for the neverending love and prayers.love you all!


My Daang Bakal friends. Sukob na!bhooopp! eventhough you didnt send me letters or forget about me sometimes im still the same and i will never change.I miss you all.love you guys!


Ayette, jong, shai & tierra. hehe! what can i say...eventhough were not talking that often thanks for the support and love.mwah!


Bestfriend jhoan. Thanks for the wonderful gift of friendship. Thanks for the neverending understanding, trust and love. love you best!


My College buddies. Ah! dont know what to say. these guys are really busy. anyways thanks for everything.=) i miss you all!


Papi and mami. eventhough we have lots of misunderstandings all the time thanks for being there always with me. For guiding me, the support and love your giving me.thanks.love you both!


Aryan. yani ko...thanks for all the help. thanks for always listening & for giving a shoulder to cry on. well, were just cry babies. Thanks for all the advices and for always lifting me up when im down. Your like my little sis & my little angel and i love you so much. thanks for the trust and treating me like a family of yours.be strong and things will find its own way for you to have your happiness, finally. hope to have more camwhore moments..and yeah dont forget were GORGEOUSSSS! =D


Mah Boo. I dont have any words left to say, not enough to tell you how much i appreciate all your help. thanks for the neverending love, support, trust and understanding. you never let me fall, always there to hold me and always there to guide me and walk with me all this time. Thanks for helping me in my darkest times. Your my everything and you will be my "boo" forever. thanks for being a part of your life. without you here i guess i will be lost! Hope to have more years of friendship and love with you. Always remember im always here for you no matter what. Keep on dreaming and in time you will have all your hearts desires. take care always boo. i love you so much!


Jeng. my one and only bunso. thanks for always being there eventhough we didnt see each other that often. you know how much i love you too. mwah..


Ikay. thanks for the friendship. thanks for a year of fun and happiness. Thanks for the memories that i will never forget. thanks for trusting me, for the love, the affection and the support. All i wish and want for you is your happiness. Don't let it pass by you anther time. Im happy for you whatever you have now. Take care of yourself like i used to tell you. Be strong and time will come all your dreams will come true. Just have faith. keep on praying. im gonna miss you. ti voglio bene.


Bloggie friends. hmm..lara, yani, ralpht, charlene, mr tuesday, mikmik, glenna and for all those who are in my links. thanks for always passing by and tagging. thanks for leaving some comments too. =)thanks for appreciating my posts and all the things on my blog.just keep on tagging guys.=) love yah all!


I have ups and downs this year. I've been depressed most of the time, but without you people who are always there to give me hope i will not be here doing this post. Im happy that i have gained more friends but im sad that some others have to leave and say goodbye.thanks for being a part of my life. thanks for sharing wonderful moments with me. These words will never be enough to show and let you all feel how grateful i am to have you all in my life. Thank you very much from the bottom of my heart. love yah! Hope you all have a good year ahead of you. You all know where to find me in case you need some help. im just a text, email, ym and a phone call away. I will do my very best to help.=) Thanks! May God bless you all with much more blessing this whole year, 2007. mwah..


Finally! i told you this will be my longest post ever i think.*biggrin* im sorry if ever i forget somebody on the lists. Just tell me! =)


take care guys! see you on the next post.haha! mwah...
**note: gonna put some pics on my next posts i guess. or maybe you can check them out on my other site. just click on my multiply link. =)
Y Make me yours tonight, let me die in your arms;
2:21 AM