Wednesday, March 28, 2007
I dreamed of you last night,
I see that smile on your face
I feel the warmth of your embrace
I feel that soft lips.

We were together,
looking each others eyes
holding each others hands
those sweet kisses.

I love the way you comfort me,
the way you stroke my hair
the way you look at me
I just l♥ve the way you are.

A day full of L♥ve,
a wonderful night
You and I,
whispering our "I l♥ve you's".

...it was just a Perfect Dream.

-by
Me
-

(dreamin' of you!)



--------------------------------------------------------------------------------


Ti ho sognato questa notte,
il tuo sorriso
il tuo abbraccio
la tua labbra.

Insieme, io e te,
ci guardavamo gli occhi
mano nella mano
I dolcissimi baci.

Stiamo bene quando siamo insieme,
mi piace quando mi acarezzi
come guardi,
mi piace come sei.

Il giorno pieno del'am♥re,
Una notte meravigliosa
Io e te,
sussuriamo "io ti amo"♥.

...a un sogno perfetto.

-by
Me
-

(dreamin' of you!)
Y Make me yours tonight, let me die in your arms;
6:23 PM


Monday, March 26, 2007
How's everybody? Im a bit busy this last few days, im busy sleeping.haha! All i want after work is climb up into my bed and sleep or just play with my new psp-like-toy.lolz! Just want to free my mind from stress.*wink*

This weekend we were not able to go out of town. oh thank goodness! But...i was asked to help prepared a place for a baptism.hehe! The event happened last sunday and so saturday i was asked together with my girlfriends to design something in the recemption. Im glad though, because finally i will get to see my old girlfriends again. =) Donna, jeng, wena and I had fun that day. We did our normal "laughing trips", jokes, cam whoring, singing and dancing. That we used to do when were all together, it was like "there will be no tomorrow" for us. haha! t'was really fuuun!

Then on the day of the event, we had muchooo fun! We were asked to do some task like giving the souvenirs and cake and ask people to sign for the baby-guests-signature-thingy.lolz! Then we all dance together. The highlight of the event is when mami and arvin (aryans bro) dance some chacha in the dancefloor. Then we (my girlfriends) had fun dancing all the way and
aryan
sang three songs i guess. hmm...as i remember it was "fame", "i will survive" & "dancing queen". Well, i didnt expect aryan will be there but then good thing she came over with her mom. Mami and Papi was there also and im glad that finally tita mildred(aryan's mom) and my mom were able to meet personally. hehe! Yana and I used to hang out she used to go to my place and same with me but then our parents never meet at all. =P

Many things happened in the past week. My last week was kindah depressing but then thank God i was able to survive once again. =) Some problems just popped up once again, unexpectedly. Anyway, it happened already and like i used to say "just have to deal with it".

I also had fun together with the "accursio boys". I don't know much of them but there are some who really are very close to me. We had some laughs and was tripping with each other. I didn't even consider myself as their "Ate". Im the oldest girl in the group, but then i put myself and think the way they are.haha! So, it was like i feel 18 years old again.lolz! And just like what boo said: "keeping yourself young at heart". =D

The day was great eventhough it was kindah tiring and also had a bad weather. It was raining since saturday then the whole day of sunday. Anyway, as long as we had fun! =) I hope there would be another event though, so we can see each other again.haha! The event makes its way for us to have bonding.

I would like to congratulate
astrid
and
paeng
and all the others who were able to make it finally to finish thier school wheather it is highschool or college. Sorry i can't remember the others. Goodluck to all of you in your future. And yeah, its already summer vacation in the Philippines...Enjoy your summer vacation and had fun!

Thanks for always visiting my little home. =) And dont forget to leave a comment and a tag. lolz! Have a great week ahead guys. Take care always! mwahugsss♥♥♥


**to see more of the pictures
CLICK HERE!
**
Y Make me yours tonight, let me die in your arms;
11:32 PM


Friday, March 23, 2007
Finally! sorry for not updating my blog often, just got some things to do.lolz! But its not because im uber busy like others. There are just things that happened recently, maybe im gonna tell the stories when im not that emotional at all. =P


Monday, we have celebrated Father's day here. It's St. Joseph's feast day, the husband of mary. Well, on that day we were not able to go out because i've worked untill late so im tired already. But then papi have cooked some baked pasta with cream, hotdogs, ham and cheese. Then he bought a particular sweets that is special on that day it is called "zeppole di san giuseppe". You can buy it on that day only they are specially made for the Father's day.hehe! It is like a doughnut which is coated with sugar and cream filled inside with a piece of cherry on top. its really yummmy! =) Then we opened some champagne...cheers!!!

The next day, i treat papi out for lunch. Well, its a disaster.lolz! Mami told me about this "pinoy restaurant" that cooks pinoy dishes with an affordable price. So to be different i'm gonna treat them there. We got the address of the place but mami didn't even remember the name of the resto and even its number. So, we were there at pass 4pm then find the place but no..nothing..NO pinoy resto at all! Oh well, mami made a mistake.errr! I was really dreaming of eating "adobo", "tilapia" with rice and sinigang or mongo. ampf! So we ended up eating at the same resto we used to eat. It was then almost 7pm when we reached the place. I soo hungry! So i have eaten rice, spare ribs, french fries, spring roll and ravioli. Actually, that time i've got a toothache.lolz! There the day ended..."Ti voglio un mondo di bene, papiii!♥".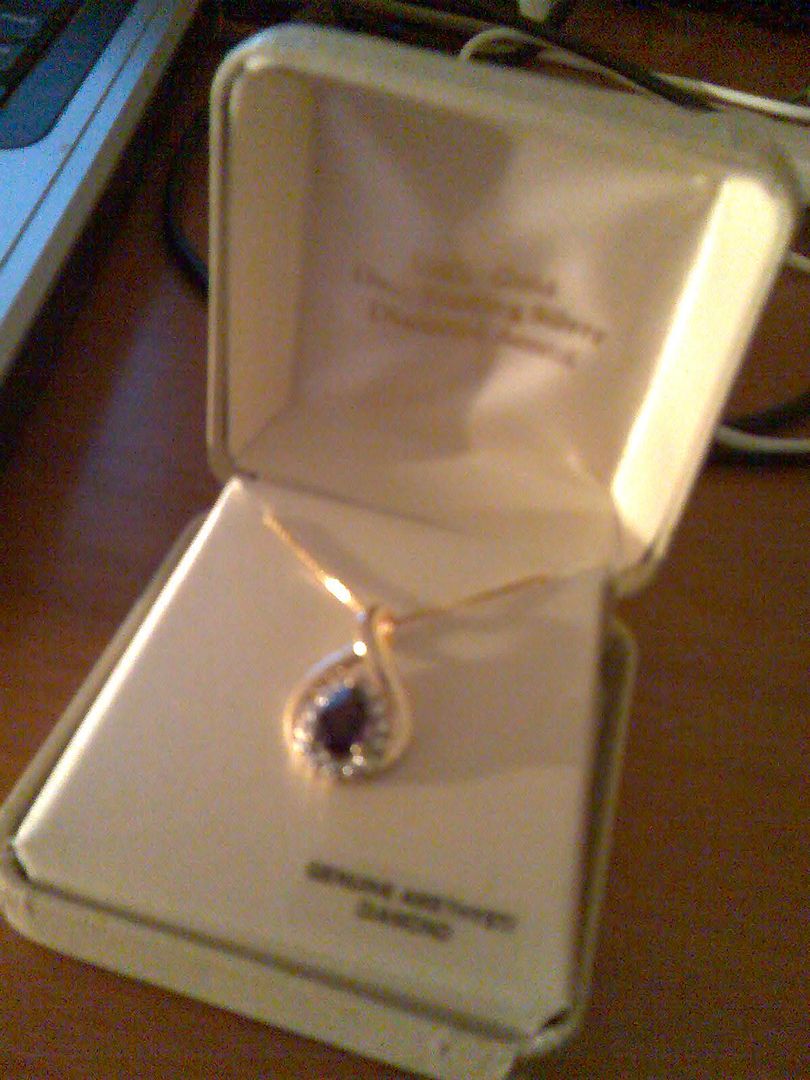 That day also i've got a really special gift. =) a gold necklace with a diamond amethyst. hmm..it was given to me by a person who cares. awww! im soo touched! i feel soo special. Don't have a word! Thank you very much..."mami paula♥". hehe! feeelinggg! =P lolz! thanks...thanks...boo, give her another hug for me. =) And another gift from papi. I told him i want a psp but then since papi can't afford it for the mean time he gave me this psp-like-toy.haha! I feel like a kid though, it has lots of games and has a memory card slot. oh well, as long as im enjoying it. Thanks papi!mwahugs♥♥♥

There you go for now, other pics will be uploaded on my
multiply site
. Check it out whenever you have time. Thanks for those who commented and who keeps on visiting and leavin their tags. Keep it coming guys! I've already updated my links for those who asked the link exchange.thanks guys! I miss you all and i he♥rt you. mwahugs..♥♥♥

Have a great weekend! take care y'all.
Y Make me yours tonight, let me die in your arms;
12:44 AM


Monday, March 19, 2007
I love you

Baby I love you
You are my life
My happiest moments weren't complete
If you weren't by my side
You're my relation
In connection to the sun
With you next to me
There's no darkness I can't overcome
You are my raindrop
I am the sea
With you and God, who's my sunlight
I bloom and grow so beautifully
Baby, I'm so proud
So proud to be your girl
You make the confusion
Go all away
From this cold and messed up world



I am in love with you
You set me free
I can't do this thing
Called life without you here with me
Cause I'm Dangerously In Love with you
I'll never leave
Just keep lovin' me
The way I love you loving me



And I know you love me
Love me for who I am
Cause years before I became who I am
Baby you were my man
I know it ain't easy
Easy loving me
I appreciate the love and dedication
From you to me
Later on in my destiny
I see myself having your child
I see myself being your wife
And I see my whole future in your eyes
Thought of all my love for you
sometimes make me wanna cry
Realize all my blessings
I'm grateful
To have you by my side



Every time I see your face My heart smiles
Every time it feels so good
It hurts sometimes
Created in this world
To love and to hold
To feel
To breathe
To love you



Dangerously in love
Can't do this thing
I love you , I love you, I love you
I'll never leave
Just keep on loving me
I'm in love with you
I can not do
I cannot do anything without you in my life
Holding me, kissing me, loving me
Dangerously
I love you
Dangerously in love

-
Dangerously In Love
by Beyoncè Knowles-




"Love is a choice. It is, primarily and basically, a choice. It is you who decides whether to love or not. You can fall in love with anybody. Falling in love is different to love itself. Everyone has a notion of love. Some poeple may categorize love as an inexplainable emotion felt with someone. The way their hearts skip a beat, or when they feel that "somebody takes their breath away". If someone satisfies your idea of love, you may have fallen in love with that person. But then again, there is a nuance to the situation. Falling in love becomes a myth in search for true love.





Love is never a happy word. Love is coterminous with suffering, pain, and sacrifice. And that is what makes it a choice. When you choose to accept a person despite EVERYTHING, that is love. When you choose to love, you CHOOSE to be hurt. You CHOOSE to suffer. You CHOOSE to sacrifice.





Love is sacred. And so is commitment. Commitment symbolizes the decision to love. You can love a person without commiting, but you can never commit yourself to that person without love. Commitment marks love. It symbolizes your decision. Commitment in a relationship need not to be hard work. It does not require anything but love. That itself is enough.





Love is willing. Love is rare. It does not happen all the time. It does not happen in an instant. It takes time. Because it takes time to decide."



-by
Bam the Great
(Muffled Chatterbox-Moonstruck Glade)




I was on my way home when i have heard that song in my ipod. I was like "ouch", it was like it slapped me on my face. It really striked me..."rawr!". I cant really express how and what im feeling right now but maybe the song and that post from
Bam
may have given you the idea. My last post is a song also and its a bit confusing. And now, i know you might be thinking that im "Inlove". haha! I guess im starting to reveal something now. lolzzz! But just leave it as it is, I can't tell you more than this. I will make you think and leave you puzzled about this things. haha! as if...lolz!

I would like to thank my ♥blogger friends♥ for the neverending support and love. Thank you for the kind words, the comments and the tags. mwahuggs♥ I can't tell you that im ok now, but im feeling better not like the past week. I hope everyting will be back to normal as soon as possible. I'll be starting to update and post something different. Some interesting topic and stories that is happening to me everyday. So, i hope you'll gonna continue visiting my blog. =) Have a great week ahead of you guys! take care...mwahugs♥♥♥

Auguri Papino mio! Bouna Festa del Papà!
Ti voglio un mondo di bene.♥♥♥


*(happy father's day)

[feast day of St. Joseph (mary's husband)]*
Y Make me yours tonight, let me die in your arms;
12:29 AM


Wednesday, March 14, 2007
I want to paint my face
and pretend that I am someone else
Sometimes I get so fed up
I don't even wanna look at myself

But people have problems that are worse than mine
I don't want you to think I'm complaining all the time
And I hate the way you look at me I have to say
I wish I could start over

I am slowly falling apart
I wish you'd take a walk in my shoes for a start
And you might think its easy being me
You just stand still, look pretty

Sometimes I find myself shaking
in the middle of the night
And then it hits me and I can't
even believe this is my life

But people have problems that are worse than mine
I don't want you to think I'm complaining all the time
And I wish that everyone would go an shut their mouth
I'm not strong enough to deal with it
-Stand Still, Look Pretty by the Wreckers-
**this song was given to me by
arianne
. she used this as her blog's song for a while. the time she's bit a depressed i guess.(arianne correct me if im wrong.) im not depressed..i dont know why this is happening again.err! sudden attack of "don't know"?!!...i really dont know what's the reason. sometimes you really just feel like this way and don't know why and how and what...blahhh.. i even dont know what to write. but this song could hardly express whats really inside of me now and maybe things that i maybe thinking. oh well...if you want to hear the song just
CLICK!
this link. I'll gonna hop on your blogs when i have more time. im gonna miss you guys! take care..mwahugs♥♥♥**

Y Make me yours tonight, let me die in your arms;
6:50 PM


Sunday, March 11, 2007
Up to my second post for the day. I've seen a friend yesterday morning on my way to work. We exchange blahs..blahs...and blahs. Then she ended up asking me something that made me think and made me come back from the past year. Damn! it really hit me, i almost cried though.

The past year was a real blast for me. It is all mixed up with lots of emotions and happenings that made me think along the way. Happiness, sorrows, pains, insults, lots and lots of problems, breakups?!, friends, depression, l♥ve and the likes.

It was hard but then i was happy, because i was able to go through with them and had passed every trial and obstacles that i have had in the way. Many times i have intended to give up but then I was strong and have thought of moving on.

I remembered late last year when i started blogging. I never knew how it was, all i know is that i will write and tell stories on my posts. I never knew it was a big, big world where you will meet lots of people and lots of friends. I have learned a lot, from doing the layouts, the words that most of the bloggista's used to say and use, the expressions, i've known some of the genius persons, lots of funny & touching posts, and most of all the 'REAL' persons. Through their words you can say they are true and thier very touching words that will always wake you up and help you to get through on whatever your feeling. They always give you hope, love and wisdom. They never let you down and will always appreciate everything in you. They never 'JUDGE' you. They will love you for who you are and what you are.

I have gained a lot and have lost some. But i know this happens with purpose. It means that something is wrong and some of this are things that i don't deserve. Then the 'Expect the unexpected' thingy will came along the way. I never expected that i will lost a friend-ship relation-ship. I have tried to understand and think of the best reasons on what to do and how to repair but then it was broken. Never had the time to talk and clear things out. It remained just broken. I don't know what happened, i don't understand but somehow and someday it will find its way to be understood. 'Life is full of surprises'.

Then another one came along. I never talked about it, never revealed anything about it. I don't want to get affected. I just let things happened the way it is. Because maybe untill now i'm afraid to face the reality, which is just right in my face. "hey, wake up! open your eyes and your mind." But i know i'm getting close with it and the more i live each day the more im getting scared. "NO! im not afraid, i know i'm brave enough." It is just a matter of expressing what i have here inside of me and i'm not afraid to let other people know about it. I will fight and i will stand up in the battle even without any weapon. Because i know there will always be somebody who will always be there to help and carry me when i got wounded once again.

Feelings that was left unsaid, many things have left undone and many questions have left unanswered. Life was really hard to deal. Living each day was like a journey from rocky mountains, rapids on the river and just walking on a plain street on the city. And the truth is you have to learn and understand what are the best ways when your on a certain scenario. It will be harder and harder but in time, experiences will leave marks and will teach you. It will guide you no matter how bad it was.

Sometimes i'd rather keep silent and hide myself. I don't want others to know about how i feel because they might misunderstood me. Everybody is not willing to put their feet on your place. Somehow, i understand. But sometimes i think, why is it always the worst things always happens to me? still it will remain a big question and will be left unanswered.

I remember arianne saying "it is the balance of nature". You will not be experiencing the same thing all of your life. There will be ups and downs. Happiness and sadness. The sun will shine but darkness will always arrive. It will rain hard and destroy everything in you. But then another tomorrow is waiting. Another day will pass and will give you hopes and dreams.

I don't want to be left behind. I know i should move on. Face everything with lots of courage. Go on and walk through that dark streets. I know time will come all things that i desire will be reachable. I will not stop, i will not give up but then i will continue to have hope. I'll keep on dreaming...

Of course, i can't promise that i will always be that strong like i used too but then i will try my very best. I will never stop thanking all the people who always help me in times like these. And of course, i will never also stop from giving you my shoulder to lean on and my ears to listen. I will always be here...anytime.

Have a great week ahead guys! take care...love y'all.mwahugs♥♥♥
Y Make me yours tonight, let me die in your arms;
5:34 PM


Saturday, March 10, 2007
Toink!(the bam way!)..I got tagged by
Bam
again.hehe! So here you go...

A - Available/Single? - SINGLE!!! but can be taken.lolz!

B - Best Friend? - Jhoan...one is enough eventhough i've got lots. =)

C - Cake or Pie? - Cake. fruit cake, ice cream cake, sponge cake.yummm!

D - Drink Of Choice? - Fruit juice can be pinapple,orange or apple. *softdrinks* WATER! ♥rum,tequila,vodka♥ *biggrin*

E - Essential Item You Use Everyday? - Cellphone, laptop and my bag which contains all important things.

F - Favorite Colour? - Any shade of Brown, Red..hmm all colors thats inside the color wheel.lolz!

G - Gummy Bears Or Worms? - Gummy Worms. i just love that long gummy thingy.=D

H - Hometown? - MANILA, Phils....arghh! i'll be home soon.awww!

I - Indulgence? - FOOD. NET. COMPUTER. ARTS♥

J - January Or February? - JANUARY! it is my beeday month! =D enough said!

K - Kids & Their Names? - ha? don't have one. like bam ive already got a name if his a guy i will name him "zildjian" it's an Armenian name. visit google for the meaning.hehe!

L - Life Is Incomplete Without? - "L♥ve" thats what my mom said.haha!

M - Marriage date? - later. the question is am i going to get married?.LOLZ!

N - Number Of Siblings? - 1 brother and his older than me. his name is Richmond.

O - Oranges Or Apples? - Oranges. I will just make them as a fresh fruit juice.voila!hehe..

P - Phobias/Fears? - cockroaches and some snakes.ewww!

Q - Favorite Quote? - "What ychel wants, ychel gets." by me. =)

R - Reason to Smile? - simple things.

S - Season? - Spring! i love the weather not too hot not too cold. u can see the flowers bloom and u can dress up lightly.

T - Tag people? - hmmm...? *think, think* aha!
astrid
tsuri!,
glenna
...enough!

U - Unknown Fact About Me? - i hate pickles! =D

V - Vegetable you don't like? - cucumber?is it a veggie?=P

W - Worst Habit? - im an OC?..haha...obsessive compulsive!slight.tsk!

X - X-rays You've Had? - Hips. i got an accident when i was in college and needed to get my hips x-rayed. well, its not bad at all.the doc even told me that i've got a great hips.lolz!

Y - Your Favorite Food? - Coffee.(cappucino or espresso). pasta.shrimps.ice cream.

Z - Zodiac Sign? -
Capricorn!
...WE RULE!!!hehe.=D

There you go..finally i'm done with this. =) i can't think of anybody to tag too..so i just tagged two fo my blogger friends.

So, till my next post guys. take care and have a good sunday!mwahugs♥♥♥
Y Make me yours tonight, let me die in your arms;
10:24 PM


Friday, March 09, 2007
Yesterday we have our dinner outside. Papi treat us because we were celebrating

"festa della donna", "Womans Day"

. He said its our day and will be going out to eat.haha! There in the pic is my mom and of course me and my italian dad. What do you think? Do i look like him.lolz! Papi always tell me that his my real father eventhough it's not true, but we almost have everything in common. It's funny! I've eaten too much shrimps last night.lolz! I ate fried shrimps, "ravioli al vapore di gamberetti"(gamberetti is a shrimp), grilled shrimp and fries.haha! I just love shrimps.=) And after that we have the desert, two kinds of cake the pinkish one is "strawberry sponge cake" and the other one is "ice cream cake flavored hazel nut". yuummm! =D Then the white one there is a "coco ice cream"..ewww, i don't like the taste.

I really don't have anything to say or a story. I just want to update and put this pictures. I'm supposed to posts this last night but i fall asleep. And yeah, i really have a bad dream again. che cavolo! I woke up at around 4am and wasn't able to sleep again. I was sweating and really nervous because of my dream. Well, i'd rather just keep it im sorry i can't tell you about it. =(

Hayyy! finally its weekend. I still don't know if we will be going out of town again. I didn't prepare anything at all. And i dont want to get surprised tomorrow, that i need to pack up my things in 15mins. HA!!

Bam, sorry i still haven't posted yet about the tag thingy. I'm tired and not in the mood, but i promise im gonna do it.ok! =) Have a great weekend guys! take care..mwahugs♥♥♥
Y Make me yours tonight, let me die in your arms;
11:16 PM


Tuesday, March 06, 2007
I got tagged by
BAM d' great
.hehe!

RULES:
"Each player of this game starts off with ten weird things or habits or little known facts about yourself. People who get tagged must write in a blog of their own ten weird things or habits or little known facts as well as state this rule clearly. At the end you must choose six people to be tagged and list their names. No tagbacks!"

1. It took me years inside the bathroom...haha!kidding..no just half an hour to 1hour. =D I don't know what took me so long when taking a bath. I enjoyed staying there, singing and pampering myself. Don't think of anything else ha.*raised eyebrows* I consider it weird but i know there are some others that can even stay there for 2hours.haha!

2. I'm an Obsessive Compulsive. dang! i know its wierd. I dont like leaving undone things and i always go beyond from whatever i need to do. Like at work, when i'm asked to do this i will finish it and expect that im gonna do more than that. If i still have time, im gonna do some more extra work. And at home, im not gonna stop until i finished all my chores. I should do everything that i have planned, if not i get soo disappointed. errr!

3. I have invented this, my own quote. "What ychel wants, ychel gets!". haha! kindah strange.lolz! Well, im not gonna stop unless i got what i wanted. If i have to get it then i will, if i have to do it then i should do it. If i have to buy those, im going to buy them. And if i want you, i should have you!hahaha..lolz..Sometimes it works, sometimes not.

4. I used to eat "Jack n' Jill CHIPPY" together with some rice and sometimes pringles. I don't know i just like the taste. so what can i do? try it and you'll gonna love it.haha!

5. How about eating rice with gravy, i mean lots of gravy..yummy! I used to put gravy on my rice just like a soup.haha! It really tastes good. Especially when it is KFC's gravy. Damn...i miss KFC soo much.

6. I can kill myself by my "morbid thoughts".(from arianne) I think harsh things..really harsh until i got scared by my ownself. Like when I travel everyday and used to ride the Metro.(underground train) I will think that there would be something bad that will happen like someone will gonna leave a bomb, it will explode and then everyone's gonna be dead including me.haha! Or somebody will gonna push me on the train's railway while it is about to arrive at the station and will find myself on the ground into pieces. *biggrin* haha..forget about this one.lolz!

7. I used to talk to myself alone, like
bam
. I can even make a story and do my own dialogue just talking to myself.haha! I can make a scenario the exact time and date an introduction of the story and its ending. Or maybe just a plain talk to my conscience or myself. Thinking of what i need to do for the whole day, what happened and preparing for whatever can happen. I dont know if it is normal but yeah, there are other people who does it too. right?

8. I'm scared of reptiles like snakes, crocodiles and the likes. But when i was in my sixth grade i was able to touch a phython at the zoo. You know, that snake that is big as my legs(just imagine how big my legs are.haha!) and is long as 2 to 3meters.*biggrin* And oh, i even owned an iguana. Yes, i took care of a little iguana it was a bday present of a friend. She was named as "spice" with that beautiful spikes at her back and her long tail. I used to feed her with live cockroaches and she loves it. And since nobody likes to take care of her at home i always bring her at school inside my bag and hang her on our green curtain.*devil's laugh* Nobody will notice her because of the "comuoflage" thingy. did i spell it right? correct me if im wrong. =P

9. When i was in college, i like to rush. All my plates are rush and when i have tests or quizzes i dont study ahead. I will have to read my notes 20minutes before the exam. I will browse them and look at them one by one then...im ready! haha. When it comes to doing my artworks, i used to do them the day before the deadline even my professor gave it 2 weeks ahead or a week ahead. Ideas kept on coming and is better. I would even get drunk and or be restless to have it done. Lack of time gives me challenge, motivates me and give me more determination to finish and do it better. But i think it is really one of the attitudes of an artist.hmm..what you think?

10. Ahhh, finally! I consider my laptop as my "boyfriend".hehe! i can't live a day without seeing it or touching it. I would rather forget my toothbrush and other important things when going out of town but my laptop... NO WAY! I'm ready to sacrifice carrying it everywhere "with handle" and no matter how heavy it is. I even miss it if i don't get to touch it for hours.haha!


There you go, ha! It took me a day to think of this things. Because i really dont know what to write and im afraid that you may got scared of me after this.haha! Just like what bam said, i hope we can still be friends after knowing all this "weird" things about me. *biggrin*

I'll see you guys on my next post. Please have time to visit my
multiply site
,
and my
friendster profile
i just got a new layie and updated it.hehe! thanks...

Enjoy the rest of the week guys! take care..mwahugs♥♥♥
Tagged
arianne
,
romina
,
astrid
,
moieee
,
sherma
and
lyka
Y Make me yours tonight, let me die in your arms;
7:59 PM


Monday, March 05, 2007
I spent my weekend out of town. We went to bergamo, at my cousin's place an hour travel from Milan. Actually i didn't know that we were going there. They told me about it when i get home in the morning after my work. I cut my time from work because i was still not feeling that well. hehe! Remember? friday, i got this f%&/in' allergy and untill saturday im feeling a bit dizzy.

But then we still have time to prepare. We ate some pizza first outside then go at our "saturday bazaar". I told my mom i don't want to go with them because i dont have money or it is the fact that i don't want to spend my money at all.errrr!

My cousin's husband is supposed to pick up us here but then he can't leave the kids to his neighbor because of certain reason. So, we hurry up and got the ticket as soon as possible. We wanted to get the bus that will arrive as early as 7pm. It will took us an hour to reach the Bergamo's station and there he will pick us up. Anyways, we made it. =D

The time we get there, papi told me that we will be going to have dinner at the neighborhood.hehe! They are celebrating some birthday and some guests were not able to come so maybe we can replace them.lolz! Upon entering the neighborhood's door i've noticed the "God Bless America" wood carving hanging up outside. So me and my mom was like, "oh somebody here is from america." haha!

We have met Melissa, she's from New Jersey and was married with an italian french guy. Yeah, because his husband was born in Belgium but then his parents are from Calabria, Italy. She was happy to meet us because she said finally she can talk to somebody who speaks english.haha! You know not all italians speak english or they really don't know how to speak. As far as im concerned, they use french as their second language. So when they hear somebody speaks english they are like "wow! you speak english?!". They are amazed. They even had to study in England just to learn their english, so they don't speak the american way not like us pinoys.hehe! We rock!*devil's laugh*

The night ended like that, we celebrate her birthday with two other guys friend. They have the same age of me, but they don't look like one.lolz! We had a great dinner eventhough there are not much food prepared. We got lots of wine, the red and the sweet wine. Guess its like champagne but it isn't. I enjoyed drinking, hehe! I almost finished that sweet wine while we are eating the cake. But my papi is a bit kill joy, oh well.

I didn't have a good sleep. Maybe because it isn't my bed, you know if only i can bring my pillows and my own bed. haha! that's crazy i know. =P When i woke up they told me to prepare and we will be going to my other cousin's house. We will have lunch there and spent the rest of the day. So, i dressed up quickly and prepared my things so when we get back i'm ready to go again.

I really had fun that day. I spent the rest of the day playing with my little niece and nephew. We played jumping rope, hide and seek and barbie dolls. haha! It was so much fun. I never had a day like that before. I really like spending my time with lots of kids. I even babysit my cousin's baby. I'm the one who carry her and put her to sleep. Well, the baby is soo lovely she never cries she just smile and play most of the time. So, nothing to worry about it.

As you can see in the picture, we really had fun.hehe! The girl's name is noemi, she is 7years old and vincenzo who is 3years old. The little girl is soo sweet and that little boy will give you a headache.lolz! Oh well, didn't we all look great?...hehe!

When it is time for us to go, the little girl is a bit sad. She doesn't want me to go, she asked papi if i can stay there and sleep with her.haha! She said she had a great time with me playing and from then on she will treat me like her sister.awww! isn't that really sweet? Well, i just don't know why i can connect that easily with kids. Maybe because i put my heart on them. I mean, it is not only playing with them but acting like one of them. Like if they run and jump i will do the same and i don't care whatever i look like.hehe! I just like remembering how is it being a kid and i'm getting ready so when i have my own i know how to deal with them.haha! kidding=D

So we left the place and go back in Milan. My cousin told me that we will be back again there this weekend. errrr! It is not that i don't want but i really don't have anytime to rest and do other things here at home. Saturday and sunday are the only time that i can stay home and will be able to manage some things. But oh well, then we will see what will be my mood. If i don't want then i will just act.haha! *devil's laugh*

There you go, im sorry if im not posting that often like i used too. Im always tired after work and was sick the past week. And for my blogger friends, thanks for those sweet "get well soon" tags and comments. I'm trying to recover, dont worry. The allergy was not that really serious. I mean it's not measles or anything bad. I always just had this bad headaches and bodyaches that makes me feel really tired most of the time. Thanks for all the concern guys and actually im missing all of you. I will make it up! I will drop by to your pages as often as i could like before.

Time for me to go! Till the next post...take care guys and have a great week! mwahugs♥♥♥
Y Make me yours tonight, let me die in your arms;
10:55 PM


Friday, March 02, 2007
I go to bed as early as possible last night, at around 1:30am. At pass 3am i was awaken, im feeling irritated. I thought i was just dreaming about it, im scratching my whole body and felt something wrong is happening with my skin. waaaa...i opened my eyes and have seen this small red spots on my arms, legs, neck, and my whole back. I got nervous, i used to have an allergy but not like this one. So i helped myself i got my ass out from my bed and go look for some medicine. But damn while im looking for some meds i suddenly felt im gonna throw up and im feeling dizzy. i dont know why.

I called mami and told her about how i am feeling. I said im having a bad headache and i can't breath well. Papi got worried, without any second thought he called up a doctor on call. They wanted to bring me at the hospital. But papi have just decided to talk to a doctor and just ask what we can do for the mean time.

After 45minutes the doctor arrived. He asked me to show him this small spots all over my body. Im a bit shy though.hehe! Because most of the spots i've got is in my butt so what do you think? I dont want him to see my butt.lolz! Well, after some blah..blahs.. he said he will give me a shot. errr! i haven't got any shot on my butt before so im a bit afraid. I know it doesn't hurt but..hmpf! nevermind!

Well, theres nothing i can do. After the shot, he gave me the medicine that i have to take. I've asked him if is it ok if i go to work immediately, he said its not that bad anyway. But if any fever will occur he told me that i need to go at the doctor or at the hospital immediately. Because it might be something serious.

After that, i took my shower and prepared myself going to work. As im working, im starting to feel some headache and its like im throwing up. Im supposed to work the whole day today but i decided to just go home this afternoon. Im afraid that something might happen to me. haha!

I think it is the effect of the medicine that the doctor gave me. Even papi told me that it would be possible for me to vomit or will have some headache. I called my boss and told her i cant work anymore at the afternoon because im not feeling well. When i arrived home, my body is really feeling soo heavy. I need to eat my late lunch and take my medicine. Papi prepared something for me i ate and then talk to somebody on the phone for a while. *biggrin* Then i climb up to my bed.

As i remember, i fall asleep at 5 or pass 5pm then i woke up at around 9:30pm. yeah, i really had a good sleep. It's funny i even thought that it was already morning and im already late for work but then i've seen on my clock 21:35, i laugh at myself.

There you go, just another day passed. Its already friday once again, i hope i could find more time to rest. So, i better go now.

Thanks to my very loving blogger friends.♥♥♥ hmm..bry, i can't see you! where are you?lolz...

Have a good weekend everybody! Take care..mwahugs♥
Y Make me yours tonight, let me die in your arms;
11:36 PM