Tuesday, August 28, 2007
CONSTANTLY CHANGING...5 YEARS!
This will be another big day for me. Another day that i will never ever forget in my whole life. I still remember, i've weeped not just only a pail of tears but drum-full of it. I can't imagine that up to the airport untill the time the airplane had just take-off still my tears keep on falling. My last words were:
"I don't know when i'm going back home again, but i know i will see you all again. No matter what happened."
So much have changed, too much. For 5 years, everybody are making the most of their lives now. Others were success of their careers, others had been married and now building their own family, others aren't that still fortunate enough to find a good life but still striving hard to get one. We have grown a lot from the past years. Time flies that you did not even notice what could have been changed untill somebody noticed it.
We were always happy. Everyday of our lives, the time we spent together. We have grown and have known each and every character we had. We fight, we argue, we hated each other but still the neverending love and support was still there. Miles and miles away, but i can feel all the affection deep in my heart. All those concerns, even if we do not chat or talk that very often. But when i hear those voices, it goes deep through my vains and feel it deep within me. How much i miss all of those happenings we have had, from our childhood days untill the moment i have left all of you. That i could not imagine after all those years, i am the one who will leave. I'm sorry for leaving guys, but you all know that even we're far from each other i always carry each of you in my heart. And never will, i will ever forget all of you. I love you from the bottom of my heart.
Life is too short for us to live. We have to make sure that we always make the most out of it.
"Live life to the fullest."
For a short time of period, i've learned a lot. I have known myself for who i am and have learned to deal with other people around me. We've spent alot of trials together, too much sacrifices but in the end everything has its priceless reward. You might always be busy, but you all know how much i missed you and wanted to know atleast how you all doing now. But i am happy just to see and hear the news that your all okay and doing good in your own careers. I can't wait for the day on when i can see you all again.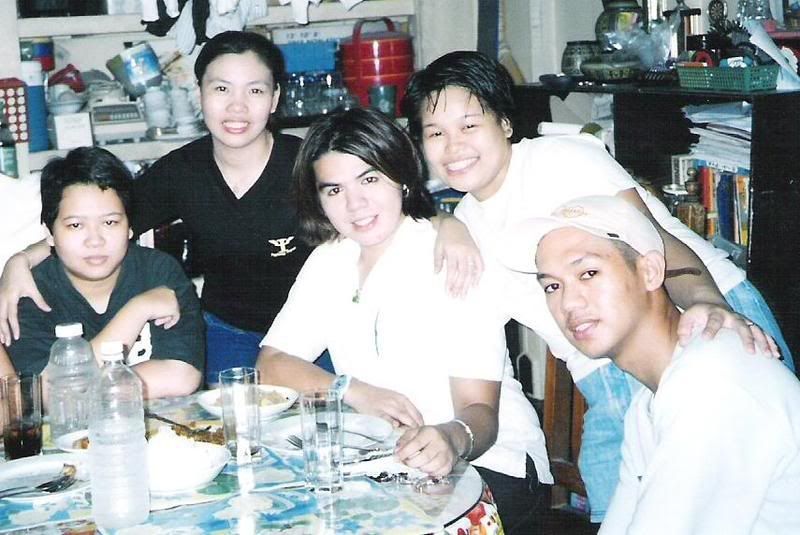 We were all innocents, on the first time we've met each other. We love to talk, to run and play around the school ground. We are all curious in each and every little thing we saw. We were always seperated by the class, but after school we always get to see each other and spend some time. We make it sure that we will have to share our food and other things we possess. We watch horror films, but we make it a comdy film instead. We will buy barbeque and eat like a family. We will do every project together and will not leave anybody to fail. After we finished that last day of our almost 7years together i thought it will already end there. But no, untill to this point in time we still continue our everlasting friendship. I just love the way we care with each other inspite of the distance. Don't asked me how much i miss you, because my words will not be enough to tell you.
We all have waited for the right time to come.
"Expect the unexpected."
We have lost a lot in the past, but now things are coping up. Seems like destination and fate is giving it back to us. Just like we deserve it just right in time. Problems never stops, but i know everything has its reason and purpose of why they happen. Inspite of all the bad things that happened, were still a family. One thing that i am always longing for. A father's touch, care, love, words of wisdom and a father's advice that i always wanted to hear. And not only i gained a good father but also a big and wonderful second family. Im loving it! We are treated not like we are strangers but they love us just like their real family with the same blood running unto us.
I couldn't imagine how we became so close. The first time we met, its like we are both snob. But i think that was the first thing that we have in common. We get to know each other and have shared lots of our nonstop stories. We confide and trust each other soo much. We have helped and never leave each other through good times and bad times. We are really like sisters that have shared everything. We talk everything under the sun. We share the same interests all the time. We share the same thoughts and feelings. And of course, we love the camera. We were brought by our own fate here. Thanks for sharing all your wisdom to me, thanks for all the support you gave me. Thank you for all the strength you gave me all throughout. Saying thank you is not enough.
I miss grandma, i miss my lovely cousins and my cute niece and nephew. I miss the family gathering were we used to share and eat lots of foods. Sing the karaoke and dance, make some barbecue and talk about lots of things, makes jokes and laugh the whole time around. I miss everything now. The outings at the beach, spending some days at grandma's house playing cards and drinking some beer without grandpa knowing it. (when he is still alive) I miss him a lot though, so much. But i know he is happy from where and what the family have reached. I know he is always around guiding us and never stop loving us.
I have too much memories to share but this are the things that i remembered. Actually everything is still fresh on my mind and in my heart eventhough 5 years had passed. I'm really waiting for the time on when i can finally give all of you a hug.
Now, i want to thank everybody that has been a part of me within this 5 years. I would not have reach this place without the help of you. Thanks for all the prayers, for giving me lots of strenght, neverending support and love. I want to thank Him most of all. For all the blessings he have given me and for all my loved ones. For guiding me and helping me throughout my trials and obstacles. Thank you to all of you from the bottom of my heart.
I have made a small presentation. This is the only thing i could do to show how greatful i am and how everybody have touched my life. I hope you like it. And also i want to thank all my "BLOG FRIENDS". You've also been a part of me for almost a year now. Thanks for those sweet words and the concerns. Thank you soo much.

Have a good week guys. I love you all.mwahugs
**Here is the link if you want to here the song clearly and view it better.
Y Make me yours tonight, let me die in your arms;
2:00 AM


Tuesday, August 21, 2007
WEEKEND ADVENTURES!
This is my 101th post!awww..
Papi's cousin invited us unexpectedly for a weekend over the mountains. This is kind of a different one because nowadays we are supposed to spend more days at the beach. Its summer time, its hot. For a change, and to get some fresh air we decided to go even just for a day.
We left saturday early morning. It would take 1hour and 45minutes to reach Modena and there uncel will have to pick us up. It would be my first time to meet him, he is papi's first cousin. He is the son of Grandma's sister.aww..good thing i can still remember the story about it.lolz. We arrived there at around 11am. We need to travel for another 1hour to reach Castelnuovo Ne' Monti. Where all you can see around is big trees and dangerous curves on the road going up the mountain. It's like Baguio in the Philippines, but more curves and it is 600meters high. Going up there you can feel the different air, not like the one in the city that is polluted and hot. There all you can breathe and inhale is fresh air.
The city was cool. They also have lots of stores around to shop and everything is on sale. Tourist spots are most likely far like traveling for half hour to reach a castle. The "Bismantova" mountain where most of the people visit and go freeclimbing. Not too high though, like what i have said its only 600meters high. Not like the one we have been visited, the Morisolo. It is 1200meters high. Yeah! Aim for that really high mountains...I really love visiting such kind of places. It is really different because, reaching them its not a joke. You have to walk 1hour or more just to reach the top. Looking down from where you have been too, it is
unbelievable. Just like when were trying to reach our own dreams. The feeling is so wonderful and so fulfilling. Under that mountain was constructed an antique small church. It was built for centuries. I'm sorry i dont have any picture to show you. But it is really simple and beautiful not too small and not too big. A sacred place where you can talk to him and thank him that you have reached the place with such good health. And oh there is also the small wishing well near the church. The traditional tossing of coin and saying your wish in your heart secretly.
We have eaten our lunch at the Restaurant near the house. They serve the famous "tortellini di zucca" and other kinds of it. It is tortellini filled with squash inside or you can choose others like with spinach and ricotta or maybe meat. Oh and for our anti-pasto we have eaten some special salami with bread and wine to start with. Then for our second plate, grilled meat, hotdogs, scamorza(kind of cheese) and french fries. Of course, to end up our lunch we have had coffee at the bar.

The house there were really cute. They are made of woods and antique big walls with the terrace outside with lots of flowers around and small fruit yard. They have provided a place just for thier guest. They have their own house downstairs were you can see all their collections. Uncle is a Hockey Referree before at his young age. Not Ice hockey though, but it was Hockey using the old roller skates. Cool.hehe! Then the other part of the house was upstairs. It has two rooms and it has its own kitchen and sala for the guest. My room looks really cute, with the window at the side and with a single cute bed. I love it.



They were so accomodating. We were out the whole day climbing up and down the castles and mountains around the place. And of course, pictures..and pictures...and films. Actually, im the only youngest among the group.hehe! Everybody is already old so its kindah difficult for them to walk and go up the place.haha... But the important thing is we had fun and we enjoyed the company. Wish we could have spent more days but maybe we will just come back next time again. I can't wait.

I still have another week of vacation and i will be spending it with my sister and another cousin. I hope to see them by next week. Because my sister's father-in-law is in the hospital and im not sure if they will be back this week. If not then the plan will be cancelled i guess. I hope not, ohh im crossing my fingers for that. We are planning to go at the amusement park all together and will be spending the last days at the beach. I hope everything will all go according to plans. Oh..please...
I chatted with my bestfriend earlier. As usual, tears fell down again. I just can't help it, because iv'e seen her in cam and i just felt that i missed them so much. I know in time and in God's will we will see each other again. And also i would like to thank Romina for the very sweet gift she gave me and boo on our 2nd year. As well as the others who greeted us. Thanks guys! We appreciate it soo much, you're all so sweet and thoughtful. Thanks!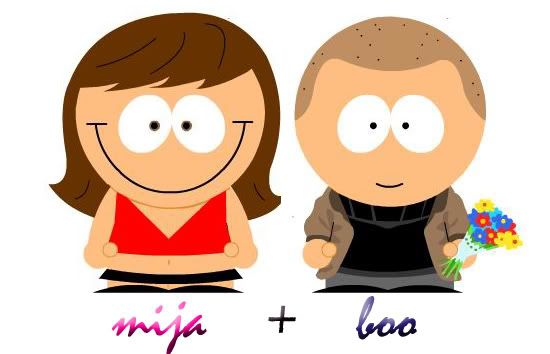 ROMINA'S GIFT!THANKS...I LOVE IT. SO CUTE! =)
I have to go for now. I still need to update my
MULTIPLY SITE
and my
FRIENDSTER
, for more pictures. Have a good week ahead of you guys! Enjoy and have fun always. Take care. Gonna hop on your pages. Love y'all.mwahugs...

**im planning to have a new layout. i hope i could find time to do one asap. for those who wants the link exchange ill try to link you all as soon as i updated my blog again.thanks. =)**
Y Make me yours tonight, let me die in your arms;
6:01 PM


Thursday, August 16, 2007
100th POST and 2YEARS!

Weeee!!! Hurray, for my 100th post in my blog. I couldn't imagine i would be reaching this lots of entries. But i guess should have more if only i have more time to tick my keyboard and is always in the mood. Thank you also for all those who read my previous 99 posts. Thanks also for the comments...oh i love them. Keep on visiting...

Today, im celebrating two things. The first one is because i have reached my 100th post and the other one is celebrating our 2nd year anniversary?!...Well, im not sure if i can call it anniversary. But this day is just a very very SPECIAL one. This is the day were i've first recieved my very first mail from him and the day that has changed my life. I'm happy that untill now his still part of my life and always here whatever happens.

First, i want to THANK YOU for all the support and love all throughout this years. I've never imagined that we will reach this far. Thanks for being there always especially when i needed you most. We have fought many battles in life together and have face lots and lots of problems and dramas all throughout. We have been into many trials and challenges, the good times and the bad times, even the darkest days of our lives. But still here we are, trying to keep and hold each other. Thanks for the neverending understanding and patience. Thanks for being brave enough, the courage and the will to move on in whatever happens. I might have said all this a million times but i will not get tired of saying them. I am grateful to have you here in my life. A million thanks to you.

YOU...you are the reason on why do i still exist here and the reason of why i still keep on surviving. You always help me in times of troubles, you are there when i feel so lonely and sad. You never let me fall, you always give your shoulders for me to lean and cry on, you always hold me when im about to give up...You always let me stand in every fall i've got, you give me that 'kick on the ass' whenever i needed it most. You will always be the man i admire and i adore since the first time i have met you...

Remember, i will always be here for you no matter what happens. I will be here to continue my support on whatever decisions you will make. I will be here to hold you like the way you are holding me each time i fall. My words will not be enough to say how and what really my heart says. I will always keep you like the way you keep me. You will always be my one and only 'Boo' and you know that nobody will ever take you place. Goodluck...in the future and always. Keep your dreams and hold them because i know in time you will be able to fulfill all of them. I will be here all the way through, to push you and remind you in everything. God bless you and your family. I know he will always give you His blessings, He knows you deserve something in the end. A little price or a little reward for all the hardworks. Take care always...I love you with all my heart.
HAPPY 2ND YEAR, BOO!
...more love and happiness. Goodluck..God Bless. I love you.mwah!
For some more updates im ok now...im feeling better. Hope everything will be back to normal, in time. I want to thank you also to those people who showed their concerns. Thank you soo much, i appreciate it alot. Have a great weekend guys. I miss you all and lov y'all...ill blog hop as soon as i can..thanks.mwahugs..
**I made the video myself. Hope you like it!**
Y Make me yours tonight, let me die in your arms;
4:29 PM


Monday, August 13, 2007
THE STORY.
It was raining hard for the past week which you should not expect because it is already summer time. At the same time, my tears were also running through my eyes. It seems that the weather is giving its sympathy, knowing that my heart is in pain.
My life is an open book to public. I've got my blog friends who knows my problems most of the time. I share my stories and experiences in life for them to know for who i am and what i have. For them to know more about my life, on how i handle them and manage to live each and everyday even with so much difficulties. I struggle in dealing with it, because i know there is something waiting at the end.
I've learned and have taught myself about patience and understanding. Hardworking, respect, love, determination and perseverance have been my guide to reach the place for where i am now. Praying, my faith and believing in Him are the things that i never forget all throughout the tragedies and journey that happened into my life.
I know everybody was shocked about the last post i've written. I know you can all feel the pain deep inside me and wanted to know what happened or whatever the reason about it. The question remains to all of you who are concerned, whoever wants to share some good thoughts and advices. Thanks, just seeing the
"why's"
and wishing that
"im doing fine"
just give me that relief and the feeling of i am not alone. Just knowing that you are all around there eventhough you're all busy was a big help for me. Thanks!
I wanted to share with you the story but i can't. It will remain to be private, it is all about a family problem. I hope you all understand. I just want to share you on how i feel, i just want to release my hard feelings inside and my pain. And i guess this is the only way. My blog, for where i share each and every thought i've got. It never says no to me and never judge me. Never tells me what to say but instead let me do and help me take out everything here inside of me. My deep pains...the hurts and the wounds that i have got...that in time help me make it heal.
I felt so devastated, thinking that my dreams and hopes are all washed away. I kept silent for a week because i know i can still manage, but i pretended. I am weak, i'm in pain, i am hurt and i'm hopeless. After waiting for a long time thinking that finally i could fulfill even 1/4 of my dreams and now i am here trying to hide myself. Not only my eyes are swollen because of too much weeping but also my heart. I could not imagine that this things are happening. It is out of my control, things happened to its worst.
"Expect the unexpected."
This are the words that remained in me for sometime. It is true. After all, they are just two. It can be the good thing or the worst thing around you. So you should always be ready for whatever will happen infront of you, to the people you love or for those who lives far away from you.
I really don't know what to say more. What will be the right word to describe me, to describe what i am feeling. I don't want to hear those voices anymore, they keep me insane. They drag and really pull me down. I feel so disappointed.
I have been through alot, lots of problems that others could have been worst than mine. Should i be thankful for it?...They say He will not give it to you if you can't handle it and if you could not carry them. But what if i can't? Will they call me a loser or somebody who is really weak? What if i want to give up now? Will they just tell me i am a coward who doesn't know how to fight after all? That long before i was telling everybody that i am brave and i will continue to battle even if i don't have any weapon on my hand. It was really hard for me to accept it...was really hard for me.
I am not perfect and who is after all, nobody is. I don't know what to feel anymore. I dont know what words to utter because i am afraid that the more i comment and the more i talk the more i damaged things. But i guess i also have the right to do that, i was a part of it.
All we want was to help and to give happiness to our loved ones. But then it was all destroyed. It turned out to be a nightmare that untill now it keeps on haunting me. Sleepless nights together with the tears on my eyes that i can't help but fall. I don't want to pity on myself. I want to fight over and over again. Because i know there are people who still believes in me, my capability and my strong personality.
Will you get mad at me if i tell you im giving up now? Will you not love me anymore? Will you not care about me after all?...I get tired too. I have tried my whole life to be a good one but then is this is all i deserve? They say the world is turning, but how come mine turns out so fast that i could not even notice i was happy for a long time. It was just like a glimpse. It arrives and leaves too fast.
I dont want whatever i am feeling right now.(well, whoever wants it anyway.) But i can't control it and you can't say just do this or do that.
"Easier said than done."
Try to put your feet on my shoes and tell me how is it to feel like this way.
I don't want to say goodbye, its harsh. I don't want to say im giving up, because it hurts. I don't want to say im leaving. I will be around, i will try my very best to stand up again. If i can still do it. I will try to be strong and fight over the pain. I will keep my faith. I will try...i will try...
I hope this will not be the last time you will have to see me here. If you need me i will be around, you know guys, where and how to contact me anyway. Just help me pray and thank you for everything. I'm gonna miss you all. I love you all.mwahugs.
Y Make me yours tonight, let me die in your arms;
3:37 PM


Friday, August 10, 2007
I AM...
totally
DEVASTATED!
Y Make me yours tonight, let me die in your arms;
10:32 PM